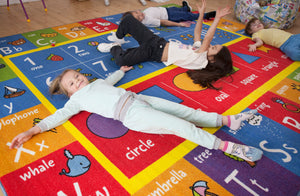 Loving to Learn, Living to Play
Our Mission
Whether you're a parent or a preschool teacher, we're designing products with you and the children you love in mind.
Our world has changed a lot over the last few decades – and it's time that products designed for kids catch up. There's no doubt that technology has become a staple in homes and classrooms, but that doesn't mean that other areas of our lives shouldn't advance and evolve, too. That's why we're committed to creating modern products for children that incorporate the realities of the world around them.
Each of our products are thoughtfully designed to keep young children engaged in play. We think outside of the box, offering kids opportunities to learn in an environment where their imagination is boundless.

Did you know that the average attention span for young children is 10 minutes? It's our goal to make the most of that time, developing products that are engaging without being overwhelming. We follow three guiding factors when creating new products:
According to recent reports, the average attention span for young children today is 10 minutes. It's our goal to make the most of the time we have with children, developing products that are engaging but without being overwhelming. We follow three guiding factors when creating new products:
Keep it simple
Make it engaging and fun
Create opportunities for learning
From learning letters and shapes to being introduced to math fundamentals and the animal kingdom, we're here to provide endless opportunities for learning, playing, and growing.
To teach children to be passionately curious about life is one of the best ways to instill a love of learning. When children learn through play, they do so much more than just memorize and repeat. They:
Increase cognitive and motor skills
Develop better speech, language, and listening skills
Improve social skills and enjoy better friendships
Our children are our future. At KC Cubs, we believe giving children the tools they need to succeed is the best investment we can make in tomorrow.
Our Story
In 2015, KC Cubs was founded by two childhood best friends, Kevin and Cooper. Kids at heart, Kevin and Cooper were inspired to create a brand that would take the toys and games they loved the most when they were growing up and update them so that they felt at-home in today's modern world.

And it all started with just one rug.
Remember "road rugs" that you could run toy cars on when you were little? So did Kevin. One day, while looking for that same rug for his nephew, Kevin realized that the road rug he thought was great when he was a kid didn't have the same appeal today.
That's when he called Cooper.
On a mission to create colorful, interactive rugs that were educational and up-to-date, Kevin and Cooper got to work, enlisting the help of Kevin's wife, who was an elementary school teacher and a big believer in the power of learning through play.
This is when KC Cubs was born.
Our Community
Parents, teachers, and schools love introducing children to KC Cubs! From small rugs designed specifically for apartments to large area rugs perfect for living spaces and classrooms, KC Cubs will instantly make your room feel fun and inviting for young children.
Our future
As we continue to grow KC Cubs, we constantly look to our own children and our community for inspiration.
Our customers tell us how much they and their children love KC Cubs, and this feedback is inspiring us to grow and expand our product offerings. Keep checking back - we are designing new educational rugs all the time!
Our goal is to become a household and classroom staple for parents and teachers around the world. As we prepare ourselves for this growth, we are reminded of where it all started:
One home, one child, one incredible opportunity to learn through play.
Our process
All KC Cubs products are designed and developed in the United States. We pay close attention to the quality of materials used and are dedicated to ensuring that the factories we work with are safe and healthy for the employees who work there. Before releasing any of our new products to the KC Cubs community, they have to pass rigorous testing and inspection.
Our process includes:
1
Making sure the product and design is something we personally would want in our home or in our child's classroom
2
Ensuring that every product is safe for all members of the family, especially the smallest ones who will spend their time up close and personal with our rugs
3
Redesigning as needed in order to ensure each product is engaging, fun, and practical
4
Integrating the needs of adults with the needs of children, never sacrificing or compromising one for the other
5
Quality testing our products to make sure they hold up to rough daily use